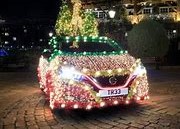 uffis is a very experienced instructor who finds an individual approach to each student. He helped me focus and correct my weaknesses in driving. Thanks to the practical classes, in which we analyzed potentially difficult areas, I was able to successfully pass the exam. I strongly recommend Muffis English Driving School if you want to get through your driving test!
Humanyun
¤¤¤¤¤ The best instructer ´Muffis´ sir i have foundever! His some secret and funny teaching methods that help to keep in mind everything to pass the test-He is very expierenced instructor and his individual approach to each student  helps to focus and  correct the weakness!
Not only for the exam but also i have learnt a lot from him to drive in Sweden safely'
I strongly recommend Muffis Trafic school to learn drivingand pass through the exam!He is not justan instructor-He is the Master! Muffi Sir Thank you.
A BIG HUG
_______________
Yan Wang17/02/2022
Recensionen skrev av Yan Wang
starstarstarstarstar 18 timmar sedan
The best driving teacher ever! Muffins can teach you in most efficient way and easy to understand. I do recommend the intensive lessons! Driving everyday with Muffins before the week of the test will help you a lot!
Muffis English Driving School
SM Toufiqur Rahman 2022-02-1
Muffi is simply amazing, i made my driving license todayand that is justa week of start with him.I was failed  couple of times before meeting him although i had several years of driving experience outstíde Sweden-Muffi corrected my way of thinking and taught me essential teckniques for not only passthe exam but also to drive safely in Sweden. Also he managed time for my exam in a super fast way which saved me from taking the theorytest again.No matter if you drive well or not, you need toadapt Swedish style of driving-For this i strongly recommend Muffis Driving school.Thank you Muffi-
Good luck for everyone-
_________________
Recensionen skrev av John 
Can't recommend Muffi enough for anyone looking to get their license here in Sweden. Highly knowledgeable, and great fun to learn from
Iris sommarsby 24/03/2022
好感谢Muffi,斯德哥尔摩最好的教练,40年的教学经验,他非常的风趣和有耐心,很有计划的训练你帮你纠正你的开车缺点,可以说他非常的专业也很会给你激励,他的很多笑话让你感到放松,在开车的过程中也让你很容易记住一些小技巧,真是强力推荐Muffi的驾校!
Iris sommarsby24/03/2022
Stort tack till Muffi, bästa tränaren i Stockholm, 40 års lärarefarenhet, han är väldigt rolig och tålmodig, mycket välplanerad träning för att hjälpa dig att rätta till dina körbrister, det kan sägas att han är väldigt professionell och väldigt motiverande, hans många skämt får dig att känna dig avslappnad och hjälper dig även att komma ihåg några små knep när du kör, rekommenderar starkt Muffis trafiklärare!
Dölj översättning
_____________________________
Kanu!4/06/

22
Muffi was very patienceand helpful in understanding the nuances of clearing the Swedish driving license.He is very approachable and friendly.The course was very flexible and very easy toplan my driving practiceat my own pact.

Muffis Traffic school is highly recomended.
Reily Long

AmericanThank you Muffis Träfficskola.
for your guidance and support. It's been a pleasure working with you. May you continue to help people towards their goal to drive in Sweden.
SreeVisakh K.G
6/7/22
Muffis Trafikskola is highly recommended if you want to learn all the tips and tricks needed to ace your Swedish DL test!
Muffi Sir is a veteran driving instructor who knows leaps and bounds about the intricacies of the Swedish style of driving.
He is well versed with traffic rules and regulations and uses his extraordinary teaching methods to make you proficient. Driving lessons with him are equally enriching and entertaining. I recommend him for your Risk-1 training in English as well, he makes the session interesting with his unconventional style and humor. Thank you Muffi Sir for the wonderful learning experience!
TrafikskolaH
ej Muffi, Tack så hemskt mycket.
.
Du har gjort bäst för mig. Jag kan inte klara mig utan dig.Jag rekommenderar Muffis trafikskola hjärtligt då han är bäst lärare för uppkörningen. Han vet allt om uppkörningen och visade mig många krångliga saker och gav mig mycket tips kring uppkörningen.
Ytterligare tycker jag att uppkörningen handlar inte bara teknik utan mentalitet när det är dags för provet. Muffi har hjälpt mycket på så många olika sätt så att jag kan gå vidare och kan klara mig.
Jag ska aldrig glömma de stunder och lärdomar i hela mitt liv när vi körde tillsammans, Muffi. Mycket hjälpsam, mycket skratt.
Recensionen skrev av Sanjay nghSi
Thank you very much Muffis Trafikskola for your continued guidance, encouragement and support.
e at all steps of the driving journey. He is an expert when it comes to imparting knowle
Muffi worked very hard and corrected all my driving flaws. He patiently guided mdge to students and training them. He knows about the routes and shares all tricks/tips with students.
I highly recommend his schOool for driving education.
O
yut Buyant

8/9
/22
Muffi is an amazing teacher with more than 40 years of experience.He taught me a lot about driving and having the right mentality on the road.His experience is very apparent as hes quick to figure out his students weakness and works on correcting them and strenthing their abilities.Very satisfied with Muffis Trafikskola and highly recommend it !
Muffi is the best driving instructor for different students with long term experience. He is very friendly and good at figuring out students' weaknesses and correct them with constant motivation.
I strongly recommend him  the best & quick solution.-
.
_________________________
17/9/22
Recommended Driving School in Stockholm… After i failed my own driving test, i recognized that i needed someone for training how to drive in Swedish mindset. Muffis English Driving School can respond my need. He has more than 40 years driving teaching experience and understand how to fulfill somethings that i was lacking. i passed driving license test after i had beenVery good service! The best teacher and the best driving school
Muffis is highly professional and experienced instructor who coached me to get driving license in first attempt within a few days.
He was able to identify keys areas of improvement and helped me improve those in a 
short time.
I highly recommend his driving school to anyone looking to get best learning experience in Stockholm.
Thank you (Marriyam Raqib
Ahmer Sattar 23/11/22
Muffi is an amazing teacher with more than 40 years of experience.He taught me a lot about driving and having the right mentalityon the road, His experience is very apparant as he is quick to figure out his students weakness and works on correcting them and strengthing their abilities .Very satisfied with Muffis TRafikskola and highly recommend it !